Jupiter
From FenWiki
"
As soon as somebody demonstrates the art of flying, settlers from our species of man will not be lacking [on the moon and Jupiter]... Given ships or sails adapted to the breezes of heaven, there will be those who will not shrink from even that vast expanse.
"

—Johannes Kepler, letter to Galileo, 1610
Places in Fenspace
Jupiter
Planetary characteristics
Orbit
778,330,000 km from primary (mean)
Diameter
142,984 km (equatorial)
Surface Gravity
3G
Year
4332.71 days
Day
9.92 hours
Mean Temperature
152°K (-121°C)
Atmosphere
0.7 atm (H 90%, He 10%)
Water/Ice Index
n/a
Population (2013)
n/a
Capital
Administered from Serenity Valley, Ganymede
ALL THESE WORLDS ARE YOURS
EXCEPT EUROPA.
ATTEMPT NO LANDING THERE.
USE THEM TOGETHER
USE THEM IN PEACE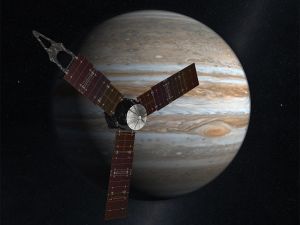 Jupiter, the most massive planet in our solar system -- with dozens of moons and an enormous magnetic field -- forms a kind of miniature solar system. Jupiter does resemble a star in composition, but it did not grow big enough to ignite. The planet's swirling cloud stripes are punctuated by massive storms such as the Great Red Spot, which has raged for hundreds of years.
Jupiter's appearance is a tapestry of beautiful colors and atmospheric features. Most visible clouds are composed of ammonia. Water vapor exists deep below and can sometimes be seen through clear spots in the clouds. The planet's "stripes" are dark belts and light zones created by strong east-west winds in Jupiter's upper atmosphere.
Text from NASA's Solar System Exploration: Jupiter page
History
Nikodemus Riddle is noted as the "First Fan To Set Foot On Jupiter"[1] in the Fall of 2009; this act plus his biomod has given him the nickname "The Jovian Lizard".
Since then, the Independent Faction, the Heinlein Society, and the the Anne McCaffrey Fen have turned the Jovian subsystem (especially Ganymede and Callisto) into the breadbasket of Fenspace, producing more fresh food than all other off-Earth sources put together. Their food shipments to the inner system getting interdicted was one of the casus belli for the Boskone War.
Government
It's sometimes said that "Independent Faction government" and "Jovian subsystem government" are interchangeable terms. This is a simplification, but not a large one.
The Galilean Moons
Jupiter has dozens of moons - 'Daneside science stopped counting after they passed 75, leaving it up to the Fen to continue the work. Most Fen in the system are busy living their lives on Ganymede and Callisto.
Notes
↑

Somewhat erroneously since Jupiter doesn't have an accessible solid surface, so it was more of a diving expedition.