Bombastic Hush
From FenWiki
"
They're quite talented and have an energetic sound that makes you want to get up and move. I wouldn't mind working with Bombastic Hush on a few tracks, even if they're not my usual style of backup band.
"

—Hoshikage Kouyou, lead singer of Sunshine Galaxy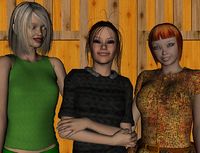 Bombastic Hush
is an all-girl French-pop-influenced Electropop trio
[1]
with a minor following on Mars. As of 2016, they're still "semi-professional" and have released three albums.
They originally met in early 2013, while visiting Port Phobos. Debuing in June of the same year, the band has gone on to minor success on Mars and Deimos, and have occasionally played at Crystal Kyoto and Stellvia.
Members
Renée Taliaferro[2]

Renée is the group's guitarist and (for songs with lyrics) vocalist. Her "day job" is Chief Aerospace Traffic Controller at station Odyssey.
Michelle Delacroix

A statuesque blonde, Michelle plays keyboards for Bombastic Hush. She's also both the group's manager and the Musician's Aid Society representative for Mars.
Poppy Sangster

Poppy also plays keyboard, but her sound is more obviously "synth" than Michelle's is. She's the "token Englishwoman" of the group even though she's of Scottish descent. When she's not making music, Poppy is on the public-relations staff of the Mars Terraforming Project.
Discography
BBR

The group's first album, named after the members' hair colours.[3] Only 500 copies were ever pressed to CD, with the majority of album sales taking place on the Interwave. The disc is a collection of all of the songs they had written to that point, plus covers of the themes to Doctor Who and Cowboy Bebop.
Sagan Station

Bombastic Hush's second album, with a theme of "exploration and discovery." This is widely seen as the band's "breakout album," and the fifth track, Red Sands, has become the group's signature song.
Heart and Soul

Their third (and most recent) album, with a theme of "love and honour."
Notes
↑ Much the same style as the Japanese groups Pizzicato Five and Fantastic Plastic Machine
↑

"Taliaferro" is pronounced as if it was spelled "Tolliver."

↑

Blonde Michelle, burnette Renée, and red-haired Poppy.